Beautiful people come from the surrounding six states and farther to enjoy our great Oklahoma Hospitality.
Some people say, "More fun than Hedo." And at 1/10th of the price! The life-long friends you make at an event like this will most likely live within driving distance.
Our summer pool party isn't just a party. It's an environment. A sexually charged environment. It officially starts on Sunday, July 8th. The rooms fill up quickly. Room assignments are determined at check-in. If you want a room with a great view, we recommend checking in as early as possible.
The total cost for all seminars, the daily pre-parties, Saturday events, and the "Main Event" party Saturday night is only:
Couples: $90 (Only $70 if purchased now)
Singe Females: $40 (Only $30 if purchased now)
Select Single Males: $100 (Only $80 if purchased now)
This is the bargain of a lifetime. Of course the hotel fee is separate and paid directly to the hotel.
This is our 14th annual major event. Every year, this party has fully sold out and we've had to turn people away. We highly recommend purchasing your ticket early if you don't want to miss this amazing party!
We recommend arriving as early as possible. Make new friends. Invite them to visit some of the sites in Oklahoma City & surrounding areas. We have over 25 sights listed with the address and telephone numbers. You may click here to see them.
Several restaurants are within walking distance. Don't ever drink & drive. There is at least one pizza place that delivers to the party hotel. Stay safe without getting hungry!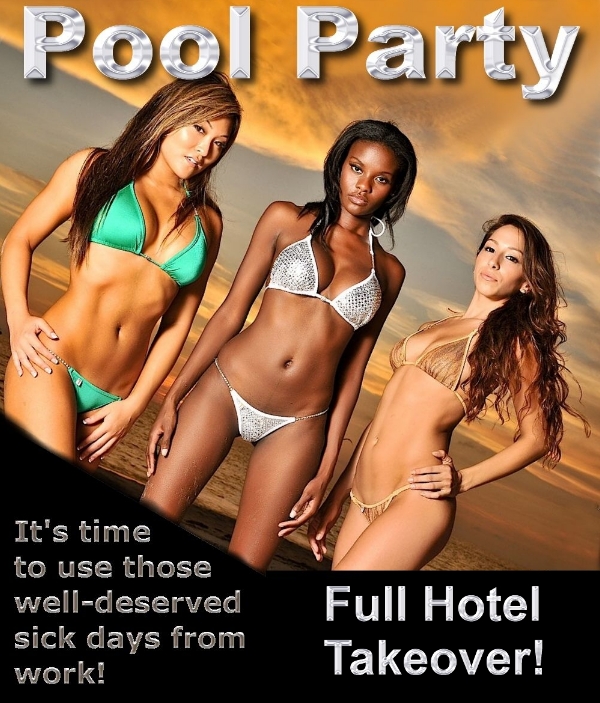 A photo of our courtyard at a previous party. Shade canopies are welcome.